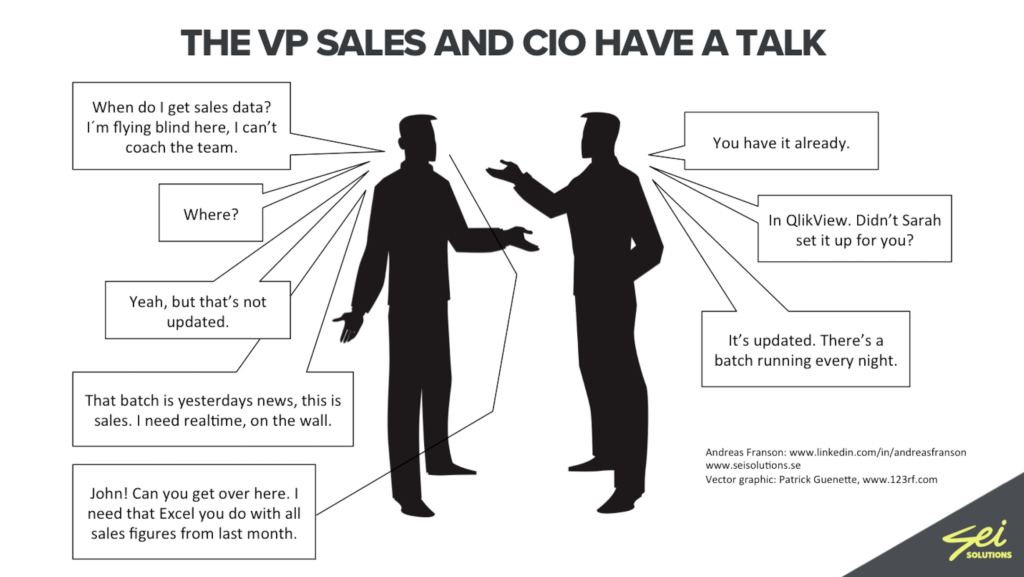 WHAT IS HAPPENING IN THE PICTURE:
The CIO is under the impression that his team has delivered what the VP Sales needs. The VP Sales apparently doesn't agree, and as he hasn't been presented with the solution he expected, he chooses to stick with an old manually updated Excel that has more outdated sales figures than the QlikView/BI-reports now in place.
WHY IS THIS HAPPENING:
This happens for two main reasons:
– Lack of communication.
– Lack of mutual understanding of each others pre-conditions:
IT needs to see the importance of easy access to data/dashboards and also understand how data is used as a motivational tool within sales (which for example makes real-time and visualisations a priority).
Within Sales there needs to be an understanding of how data is currently collected and updated, as well as what steps/investments are needed to meet the optimal requirements.
In this case it's likely that IT received a vague request from sales, which they interpreted the best they could, and then came up with a solution that seemed satisfying from an IT-perspective.
WHAT CAN BE DONE:
This is as easy as it is difficult because it's all about communication and follow-up. People from IT and Sales* have to work together in a cross-functional team all the way from request to business ready solution. There needs to be a continuous dialog in creating the report environment to make sure it's relevant, understood, accessible etc.
*In this example only IT and Sales are involved. Much better, and more likely, is that the Analytics team is involved as well.
WHAT WILL BE THE RESULT:
Most likely the initial result will be that the reports/dashboards distributed and updated via the BI-tool will be accepted, used and even appreciated. This means great progress, as it will eliminate manual work and also open up for new reports/dashboards to be distributed in the same efficient way. It might even turn out to be the first step towards a level of self-service BI within the sales department.
WHAT DOES THIS HAVE TO DO WITH DATA STRATEGY:
On a high level the Data Strategy will establish the need for improved decision support. This will be broken down into different areas of the company and it will also specify what decision support is needed. If real-time sales data can be motivated from an efficiency/profitability-perspective, then the necessary investments and actions to achieve this will be included on a high level in the data strategy, plotted on a timeline in the roadmap, and detailed in an action plan.
As the VP Sales is a primary stakeholder, he will be informed about the plan, be able to influence the plan and he will need to sign off on the plan, meaning there should be no misunderstandings of what will be delivered, short-term and long-term.