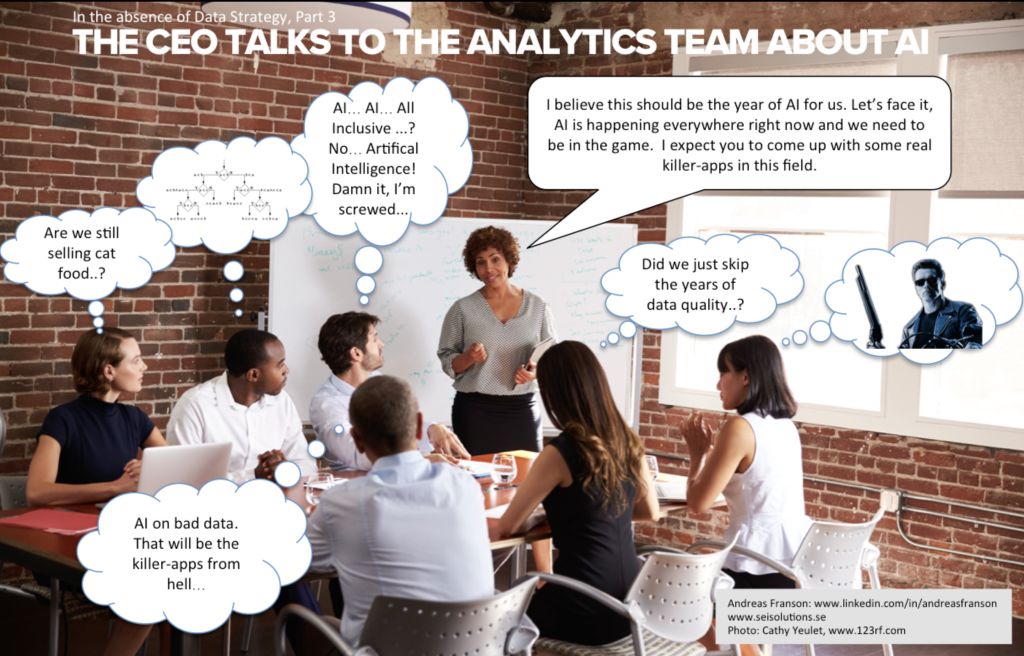 WHAT IS HAPPENING IN THE PICTURE:
The CEO brings Twitter-deep knowledge about a vaguely defined topic straight to the organisation. Apparently this is the first time anyone from top management says anything about AI (Artificial Intelligence) and everyone in the room is trying to make sense of what it means. The CEO's credibility takes a hit as there's clearly a more urgent challenge in dealing with data quality, and the analysts know that really no analytics at all can be performed on bad data.
WHY IS THIS HAPPENING:
Probably the CEO has heard a lot about Artificial Intelligence lately. She is under the impression that the rules of the game are changing, and as CEO she needs to act. She brings this message to the analytics team, who she believes are best suited to deal with the challenge. After all Artificial Intelligence has to do with data and algorithms.
WHAT CAN BE DONE:
There is a missing link in this scenario. Naturally the CEO can't have deep knowledge about every subject, but others can. As there is a lot of talk about digital, data, analytics etc. (and rightly so), there needs to be someone (on C-level, or with direct access to the CEO) who can translate this into what it all means for the company in terms of relevance, possibilities and threats. In a larger company this person could be the Chief Data Officer or Chief Analytics Officer.
WHAT WILL BE THE RESULT:
If the management team had done their homework, it's likely that the CEO would never have given the speech about AI. If there was a case for AI in the company, it would have been communicated in a different way; as part of a plan for improved customer service, developing smart product features etc. It would have involved other parts of the organisation and definitely not be an isolated task for an analytics team. Also, the term AI would have been clearly defined (and probably found unnecessary and consequently not used).
WHAT DOES THIS HAVE TO DO WITH DATA STRATEGY:
The Data Strategy states how data and analytics will be implemented and used in the company in order to achieve its long term goals. If predictive analytics, using machine learning and deep learning (i.e. what is commonly referred to as AI), was part of this, it would be explained and motivated in the Data Strategy. The strategy would establish common ground in the company regarding purpose and actions related to AI.